Is It Ok to Have More Than One Bank Account?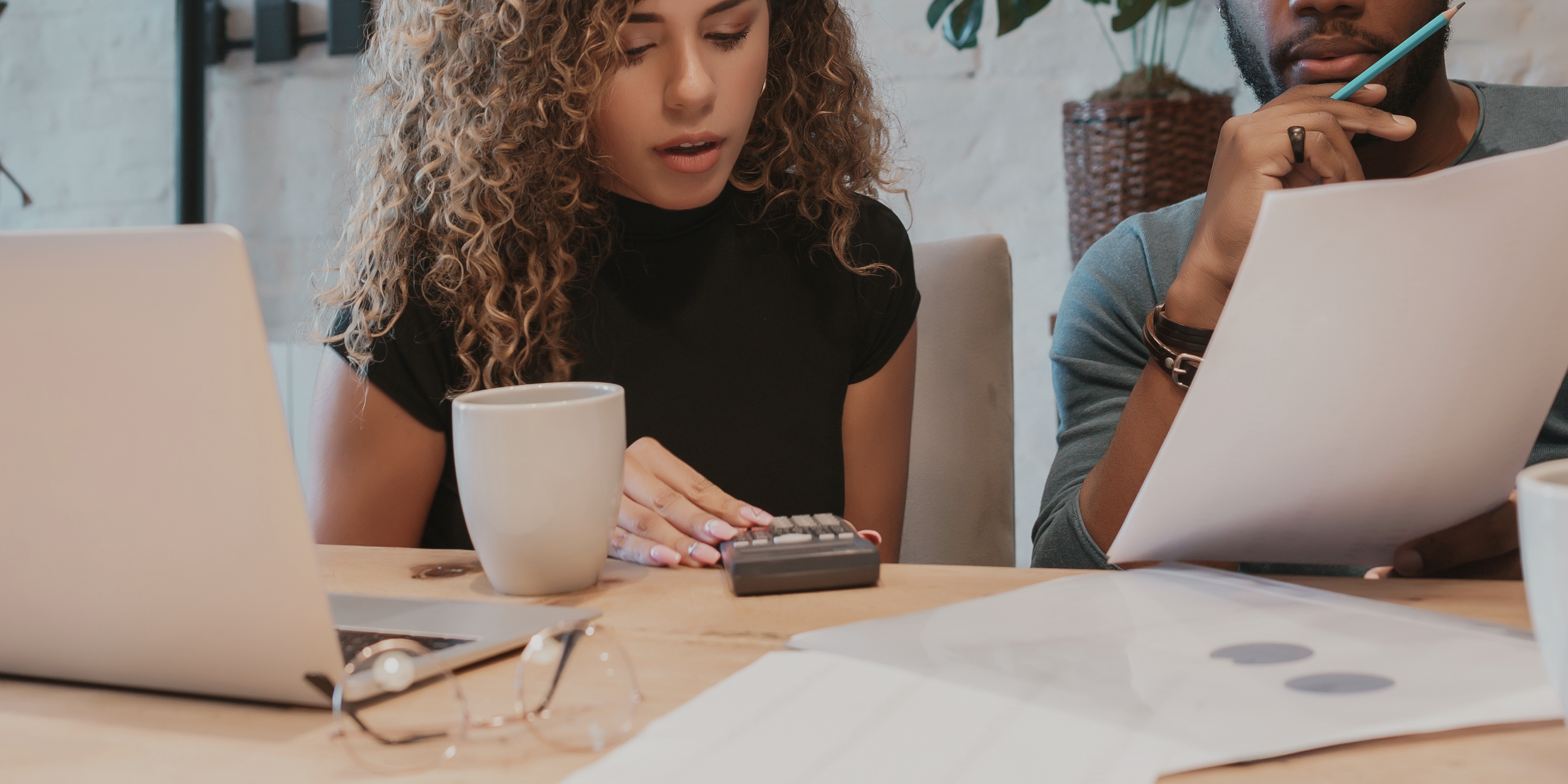 In today's world, having multiple bank accounts is becoming increasingly popular. But there's no one-size-fits-all answer to the question of whether it's best to have multiple bank accounts. It depends on your financial situation and goals!
To be honest with you… I have seven financial accounts at three distinct financial institutions, one of them being Skyla. So, consider me an expert I am eager to explain the advantages that come with having multiple bank accounts and why they could be beneficial for you. However, if not maintained properly, you must deal with maintenance, excessive fees, and more.
But don't worry - I got you covered. You'll know just what to expect if you decide to have multiple accounts to park your money...especially at different financial institutions.
take a look at what we'll cover
how many bank accounts should i have?
There's no one-size-fits all answer to this question… You must determine what your goals are and understand how you prefer to manage your money first.
QUICK TIP:

It's always recommended to have an account dedicated to your emergency savings just in case anything goes wrong. (The benefit of keeping it separate from your regular savings and checking is so you don't have easy access to spend it!) Another Emergency Savings tip? Make it a Money Market account! Why? You earn a higher interest rate! Check out the other perks.

But apart from that, it's up to you with how you want to manage your finances. If you feel organized and have a good grasp on your finances, you may want to have multiple accounts for different goals and spending needs such as College Funds, Vacations, New Cars, you name it.
Once you have your accounts established, you can direct deposit a certain amount of each and every paycheck into those dedicated accounts and use the "set it and forget it" mindset so you won't touch it until you're ready to use it for its desired purpose.
(Of course, if it's too hard to manage multiple accounts, then one or two will suffice.)
Here's a general look at how many account holders manage multiple accounts with their financial institution: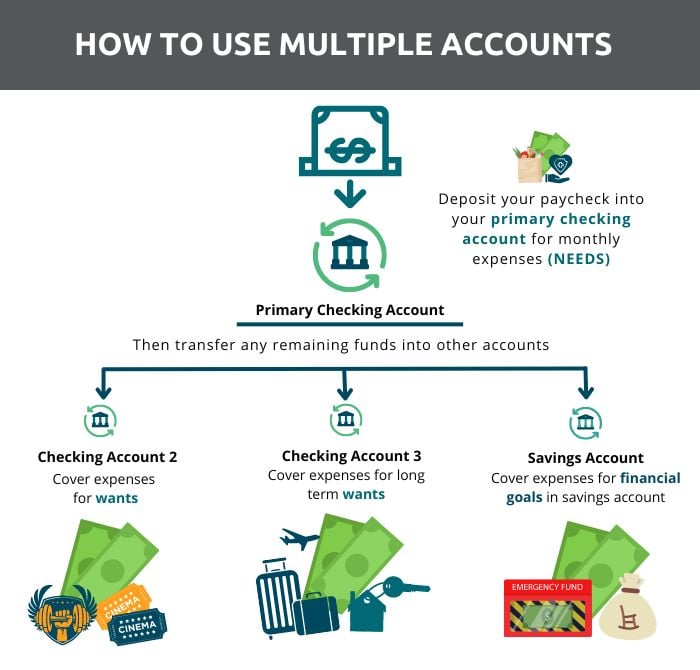 You don't have to manage multiple accounts in this order, but this gives you a general sense of how you may want to proceed if you were to open multiple accounts!
risks and benefits to having multiple bank accounts
If you're considering having more than one checking or savings account, It's important to take the following risks and benefits into consideration.
Risks of having multiple bank accounts
Benefits of having multiple bank accounts
should i keep my money with one bank or many?
Well... this depends. Some financial institutions may have better products than others but you may not want to get rid of your original bank account. You find an institution offering a nice interest rate.
On the other hand, you may find having multiple accounts or maybe just one account at one bank may be easier since you won't have to remember too many passwords in case facial recognition or fingerprint doesn't work in your favor.
You might also be close to reaching Federal Department Insurance Corporation (FDIC) or the National Credit Union Association (NCUA) where deposit accounts are insured $250,000 per depositor, per institution. Here's a breakdown of the insurance coverage by account ownership.
QUICK TIP: Want to know if your money is safe at a credit union compared to the bank? Here's how deposit accounts are protected
Remember earlier I shared my many accounts at completely different financial institutions? Here's a high-level look at how I manage those accounts.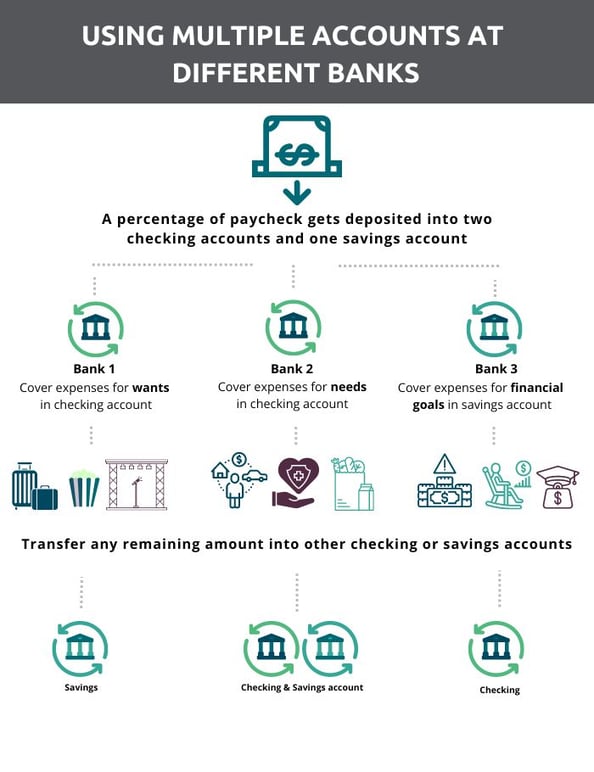 Psst… I am not implying you should have the same number of accounts and manage it the way I do. No, no, no. This is just a look at how I manage my accounts.
If you look closely, I use three accounts similar to the 50% / 20% / 30% rule. focusing on needs, wants, and financial goals. The remaining amount of funds is transferred to other accounts (third row) to help meet different goals like paying for a wedding, other debt, and buying a boat.
You don't have to choose a regular savings account. There are plenty of other savings account types you can look into. Psst... of course the savings products depend on where you plan on opening your account but you could choose between retirement account, a certificate of deposit account, money market account and more. It's totally up to you and based on the financial goal.
Don't know which savings account would work for you? Here's how you can choose
Psst... When looking for a checking or savings account, make sure to research the fees. For me, I had to learn my lesson of paying pesky account service fees.
QUICK TIP:

Many financial institutions waive their service fee on checking or savings accounts if you:

Maintain the required balance
Have direct deposit on the account
Have automatic transfers set up on savings accounts

Trust me, I was an account holder at JP Morgan Chase for 10 years and I would always call customer service to inquire about those silly fees.
In case you're concerned about fees hitting your account(s) at one of many financial institutions, here are the fees you should know about and ways to avoid them:
money management tools
Having multiple accounts, especially at more than one financial institution could be a lot to handle if you don't have the proper resources in place to help keep your money at bay. Here are some resources you can use to help manage your funds.
Mint: It's an online personal finance and budgeting tool that helps users manage their money. It is a powerful tool for managing multiple bank accounts as it allows users to link their accounts from various banks and institutions in one place, making it easy to track all of their finances in one spot.

You Need A Budget (YNAB)

:

An online budgeting tool that helps users track their spending and manage multiple bank accounts. It gives users the ability to sync all their accounts in one place and view them side-by-side, making it easier to manage their finances. With YNAB, users can easily create budgets and track spending in real-time, as well as set financial goals and track their progress towards them.
ready to make your money work for you?
Now that you know what to expect when having multiple accounts at one or many financial institutions, it's always best to have a plan in place. Having a clear picture helps you when determining which type of savings or checking account you want to open.
A great next step could be speaking with a financial advisor to see if having multiple accounts would work for you. And, who knows—you may even find new ways to optimize your savings or investments!
As always If you have any questions or comments, our Customer Service Representatives are here for you. You can send an email, give us a call at 704.375.0183, or visit any of our branches.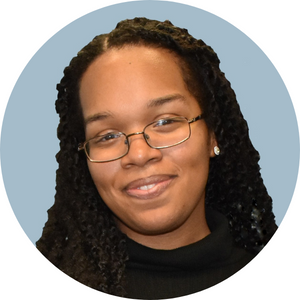 As the Content Specialist and author of the Learning & Guidance Center, Yanna enjoys motivating others by uncovering all that's possible in the world of finance. From financial tips and tricks to ultimate guides and comparison charts, she is obsessed with finding ways to help readers excel in their journey towards financial freedom.
LEARNING & GUIDANCE
more resources to help your money grow
Want to save money, but not sure where to start? Check out some popular styles on how to save money.
Do you know where to put your savings? Here's a look at the different savings accounts so you know which would work best for your savings needs.
Join our Mailing List
& get articles sent straight to your inbox
Not Sure Where to Start?
here's your personal finance journey: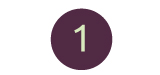 compare debit cards vs pre-paid debit cards
Check out these key differences so you know how to use a debit or prepaid debit card.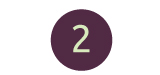 compare debit vs. credit cards
Here's what you need to know to make an informed decision.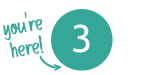 determine if you need more than one bank account
Don't know if you need more than one bank account? Here's what to consider before you make your decision.