How Should I Track My Credit Card Spending?
"How can I track my credit card expenses?" We're asked this question all the time, which is understandable since you have every right to have and be in control over your credit card spending. Keeping track helps you stay on top of fraud as soon as it occurs and helps with sticking to a budget and maintaining a low balance.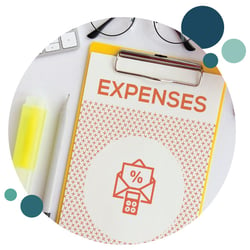 Whether you're a first-time credit card holder or have been managing a credit card(s) for years, it's easy to miss an update or overspend where purchases can add up. Not to mention, keeping track of all your expenses in general can be tricky. Between understanding purchases made during a billing period and reviewing each statement, ensuring everything adds up as it should- you just want to make sure everything is accurate, and that can take time.
Psst… Making it a habit to track your credit card spending can also catch any fraudulent transactions that might be made on your card! Another bonus? You'll be able to catch any changes made to your interest rate.
Back when I was in college, I didn't do a great job tracking my credit card spending. Because of this, I honestly think I paid more than $500 in interest and fees which I didn't even realize I was paying until it was too late! That wasn't a fun surprise! On a positive note, I paid off my credit card, but it took a while to do. I could've avoided financial loss if I had been more conscious of my spending, activity, and fees. Trust me - I learned my lesson!
Once you follow the steps in this article and do it consistently, you're not going to miss a thing when it comes to your credit card.
Your Steps to Tracking your Credit Card Spending:
1. check your credit card statements
This is a must-do! Your monthly statement lists your account activity, payment information, interest rate, and more. It's standard to receive your credit card statement in the mail, but it's easier to access if you have opted to receive your statement electronically (e-statement). Contact your lender if you have not received a statement or if you would like to start receiving e-statements.
When you get your statement, make sure to look out for:
Summary of account activity: This is a high-level overview of what's changed on your credit card since your last statement.

Payment information

: This includes your card's balance, minimum payment due, and payment due date.

Late payment warning:

If you're unable to make a payment on time, you can find the late payment fee and penalty Annual Percentage Rate (APR) here.

Minimum payment warning:

So

me statements will also include a handy minimum payment calculator which will outline how long it will take to pay off your current balance if you only make the minimum payment required.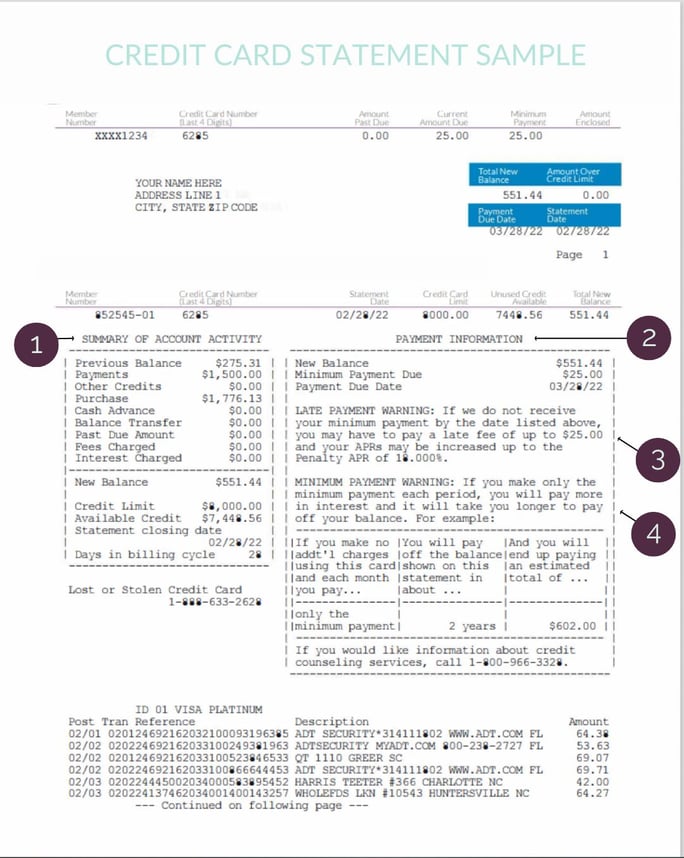 *This image is just for demonstrative purposes. only.
2. check your receipts
When you use your card and receive a receipt (paper or digital), don't be so quick to throw it away or hit delete. When it's time to review and confirm all of your purchases against your statements for the billing period, you have proof that the transaction was accurate down to the penny. This is a great way to stay vigilant for any fraudulent charges!
Once you check your receipt and verified that all purchases were accurate against your statement - then you can throw it away.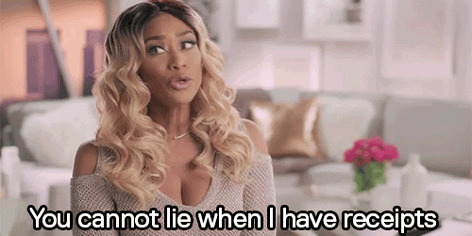 HOW OFTEN SHOULD I CHECK MY STATEMENT?
It's best to check your statement as soon as it arrives. As soon as you get your statement, pick a day during the week to stay on top of your transactions. Paying attention to your statements can help you catch errors or fraudulent transactions. You can contact your credit card issuer to report anything that isn't accurate.
Psst… don't wait 30 days to sit and review your statement. By that time your next statement would have arrived. If there were any fraudulent transactions in the previous statement, it might be too late to report them.
QUICK TIP: If you have a pile of statements and you're ready to get rid of them, make sure you shred (or at least cut up / rip up) each statement. This will remove any chances of identity theft or other types of fraud that might occur.
3. monitor your credit card account online and mobile banking
Today, credit card companies have made it easy for borrowers to access and manage their credit cards digitally. Since you can access your account online or mobile banking, you can view your credit card transactions anytime, anywhere, where you can make payments and even activate credit card safety controls like freezing your card.
QUICK TIP:

When accessing your credit card account online, make sure you're using a trusted network.

Accessing your account using public Wi-Fi is not secure.

This is how hackers can access your data. If you're looking for an encrypted site look for the URL to have

HTTPS.





Psst...

Hey Skyla members - Did you know you can stay in control of all of your Skyla debit and credit cards from one convenient location within Online and Mobile Banking with Card Controls? Check it out!
4. sign up for transaction alerts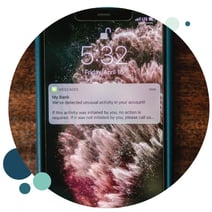 Most credit card issuers have invested a ton of money in security systems to help protect account holders' finances from being hacked. So, setting alerts can be a perfect way to ensure you're on top of your card activity in real-time. Consider setting up an alert to be sent via email or text message for the following to help you stay on track:
View any account updates (like new account balance)
Get notified of any recent transactions
Yes... alerts can get annoying but trust me - you won't miss a beat when it comes to your credit card activity!
5. use credit card tracking apps
If you don't know by now - there's an app for everything, including tracking credit card expenses. Here are a few tried and true trackers:
Mint App: It's a popular free app, available on the

App Store

and

Google Play

. You can view credit card expenses, view overall finances, create a budget, track your spending, and more. Visit mint.intuit.com to learn more.
YNAB (You Need A Budget): A popular budgeting program based on the envelope method. The service costs $14.99 a month or $98.99 a year (but they offer a

free 34-day trial!)

YNAB allows you to track your financial accounts, add expenses, set budgeting goals, and more. According to YNAB, new budgeters save $600 their first two months and more than $6,000 their first year on average. Visit youneedabudget.com to learn more.

Expensify:

Need to scan your receipts and capture expense data? This is the app that does it. It's great for personal and company use. It's free for the first 25 smart scans per month; for more, services start at $4.99 a month. Visit expensify.com to learn more.
QUICK TIP: There are so many more apps that'll help you track your expenses, just make sure you use them with caution. Check out the app's security features like encryption and two-factor authentication component to help protect your data. Also, research the app's reputation. What do Google reviews say?
you can use other tracking tools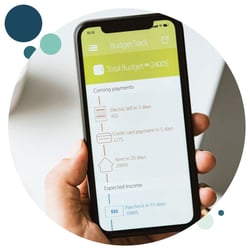 If you want to track your credit card expenses without apps - you can do that too! Just note, if you're using programs like Microsoft Excel or a pen and paper, be prepared to manually log all of your spendings.
Many financial institutions offer budgeting tools within their online banking. This is something worth checking out with your financial institution. You probably have access to an expense planner and more where you can create your financial profile and stay on track of your spending all within online banking.
Psst... Download the Smart Budgeting Guide to prioritize your financial goals, track your weekly spending, actually see where your money is going, and keep yourself on track.
ta-daaa, you got it - now here's how you stay on track
As you're getting your papers or e-statements together, it's always key to stay organized. Whether you're tracking your expenses digitally or physically, create folders for your credit cards. You can keep stuff saved in case you'll need them down the line - like for a dispute.
QUICK TIP: If you notice any unauthorized transaction on your statement, many financial institutions give you a 60-day window to dispute the transaction from your account. If you found an unauthorized transaction, contact your financial institution immediately to report it.
If you're using one or multiple credit cards, it's always best to make a list of the info on each card so you know which card is being used and what it's used for. Start out by naming the creditors, current balance and limit, the due date, the minimum balance, and the payment you're making for the month.
Remember - as you're using your credit cards, practice responsible spending, always pay more than the minimum payment if you're able to, and consider consolidating your debt if you have too many credit cards and you feel it's getting out of hand to manage. Here's a debt paydown plan that'll help.
If you want to take a step back and learn how to use a credit card responsibly, here's an article that'll help: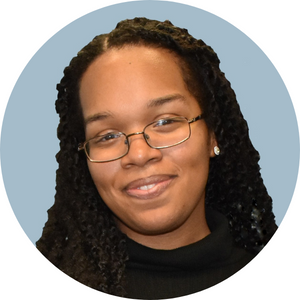 As the Content Specialist and author of the Learning & Guidance Center, Yanna enjoys motivating others by uncovering all that's possible in the world of finance. From financial tips and tricks to ultimate guides and comparison charts, she is obsessed with finding ways to help readers excel in their journey towards financial freedom.
LEARNING & GUIDANCE
more resources for your credit card journey
Struggling to understand your credit card statement? Here's a breakdown of what it entails so you're not missing out on important information.
Credit cards can be great but can also be a massive headache if you don't know how to use them responsibly. Here are the best ways to use a credit card.
Join our Mailing List
& get articles sent straight to your inbox
Not Sure Where to Start?
The Path to Credit Card Confidence: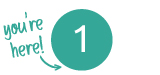 Track Your Credit Card Spending
Here's how to effectively track & stay on top of your expenses to avoid missing payments and more.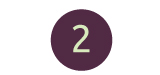 Determine How Many Credit Cards You Need
Would multiple credit cards affect your credit score? Here's what you should know.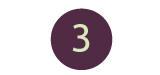 Decide When to Do a Balance Transfer
Don't miss out on the benefits of balance transfer. Learn when it works and what to consider before transferring.