Ultimately, the most important thing is to find an investment strategy that matches your needs and allows you to achieve your long-term financial goals.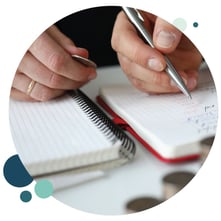 What are your money goals?
What's the minimum deposit requirement?
How soon do you need access to your savings?
Can you afford and are you comfortable with paying any penalties if withdrawing funds from account sooner? What are the penalties?
what's next?
Deciding whether to get a CD or money market account really comes down to what your goals are and how much risk you're willing to take. If you want higher interest rates and can afford to tie up your money for a fixed period of time, then a CD is a good option for you.
However, if you need more flexibility with your funds or want immediate access to your cash, then a money market may be the better choice. Whichever account you decide on, we can help you open one that meets your needs.
Any of the wonderful staff at your local Skyla branch will be more than happy to help! Not near a branch or short on time? Then simply send us an email or give us a call at 704.375.0183, or open your account online.