are money market accounts fdic insured?
Yes, many money market accounts offered by banks are insured by the Federal Deposit Insurance Corporation (FDIC). Other financial institutions like credit unions, insure their money market accounts with the National Credit Union Administration (NCUA). Both the FDIC and the NCUA insure funds up to $250,000 per person.
QUICK TIP:

At Sky

la, savings are NCUA insured

up to $500,000. Check it out >
can you lose money in a money market account?
While money market accounts are a low-risk investment, there's the potential to lose money. If a bank or credit union collapses, you could lose money if the financial institution is not FDIC or NCUA insured. At Skyla, we are insured by the NCUA.
money market account vs money market fund
A money market account and a money market fund are two different types of financial products that are designed to help investors save and grow their money. While both offer the potential for high rates of return, they differ in several key ways.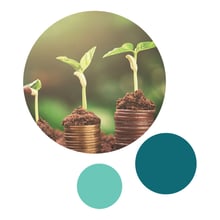 Money market funds aren't insured by the FDIC or NCUA.
You would have to pay to hold the money market fund.
The minimum deposit requirement is typically larger than the required deposit for money market accounts.
Money market funds are managed by professional investors and usually invest in low-risk options, like government bonds and treasury bills.
Both money market accounts and money market funds allow you to access your funds but many money market funds don't have as many restrictions.
money market accounts vs. certificate of deposit
When it comes to deciding between money market accounts and certificate of deposit accounts or CDs, there are a few key factors to consider.
On the one hand, money market accounts offer greater flexibility, as account holders have more freedom to access their funds without penalty or fees. As a result, money market accounts typically pay less interest rates than CD accounts, however they still give investors a better return on their money than a traditional savings account.
Just keep in mind, in order to qualify for most money market accounts, account holders must meet certain minimum balance requirements.

For those seeking a higher return investment option, a CD account may be the better choice. While these accounts typically come with higher interest rates than money market or savings accounts, they also come with some access limitations. CD accounts have strict withdrawal rules and penalties that prevent the money inside from being accessed until the CD matures or is redeemed early.
Want to know more on CD accounts? Check it out.

what's next?
Money market accounts are ideal if you're looking for a safe, higher return investment but prefer anytime access. If your money market account falls below the required minimum balance, depending on the credit union or bank, you will likely be charged a fee.
QUICK TIP: To avoid this, make sure you keep track of your account balance and move money into your money market account if needed to meet the minimum balance requirements. You can also consider finding a financial institution like Skyla, that doesn't have a monthly minimum balance requirement!
If you think you won't need access to the funds for a set amount of time, then there are other savings options to consider. Certificate of Deposits, or CD may be a great option for you. Plus, the interest rate on a CD is generally fixed, which means it will not change for the duration of the CD's term and generally earn a higher interest rate. It's definitely worth checking out.
If a money market account or a certificate of deposit account isn't ideal for you at the moment, then a traditional savings account might be your best option. At Skyla we offer Primary Savings where there's no monthly fee with your $5 balance, free Online and Mobile Banking, you can accrue dividends daily on balances over $5, and more.
If you have any questions, any of the wonderful staff at your local Skyla branch will be more than happy to help! Not near a branch or short on time? Then simply send us an email or give us a call at 704.375.0183.