when to consider a cd account:
You have a set financial goal with a specific time frame...
...BUT YOU DON'T NEED ACCESS TO THE FUNDS DURING THE TERM
You want to earn a higher interest rate.
Here's a better look at how much one can earn with a savings account compared to a regular savings account over the span of 5 years. Psst... hover over the "i" to learn what's APY.
certificate of deposit accounts (4.00 APY)

APY = Annual Percentage Yield
regular savings accounts (0.25% APY)

APY = Annual Percentage Yield
*Theses figures are for demonstrative purposes only.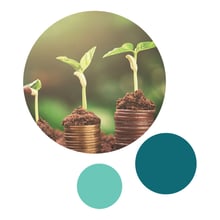 In this example, the chart illustrates the growth of a $5,000 investment in a CD with a 4.00% APY* and a regular savings with a 0.25% APY* over a period of 5 years. Both CD accounts and regular savings account columns display the value of the funds invested at the end of each year. These calculations assume that the interest is compounded annually.
Psst... Keep in mind that the compounding interest for a CD and regular savings account can vary depending on the specific terms and conditions set by the financial institution.
Want to calculate your savings to see how much you can earn? Here's Skyla's Calculator.
ready to see how your money can grow?
Both CDs and regular savings accounts can play important roles in an individual's financial strategy. Assess your financial goals and determine which type of account best aligns with your needs.
With a strong understanding of the differences between CDs and savings accounts, you can make informed decisions and confidently watch your money grow.
Don't forget to always keep an eye on current interest rates and explore the offerings of different financial institutions to ensure that you're getting the most out of your hard-earned cash.
Still questioning whether to get a CD or need to know if CD's are safe? I have just the thing.
If you have any questions, any of the wonderful staff at your local Skyla branch will be more than happy to help! Not near a branch or short on time? Then simply send us an email or give us a call at 704.375.0183.