Auto loans are also referred to as simple interest loans meaning you repay the loan with a set monthly amount plus interest. Lenders calculate interest based on the remaining principal balance of your loan. To avoid paying more interest, you can:
Pay larger amounts towards your monthly payments
Repay your loan in full before it's scheduled due date (Psst… review your auto loan agreement and check with your lender about repaying your auto loan early. There may be prepayment penalty fees.)
how simple interest is applied in your car repayment plan
Let's say you have an auto loan balance of $11,000 with a 4% interest rate and a 6-year(72 months) term. With a simple interest loan, your monthly payment would be $172.10. In total loan interest, you would pay $1,390.98.
Want to know what interest you'll be paying back using your own car cost? Feel free to add your calculations below to see the Total Interest and Total Loan Cost.
other loan types
Title Loan:

A car title loan helps you obtain the title of your car with a small loan that you generally repay in a short period of time. Note: fail to repay the title loan, then you can lose your car.


Lease Buyout Loan:

this is for borrowers who have leased their car and want the option to buy the vehicle at the end of the lease.


where can i shop for an auto loan?
When buying a car, it's essential to know that you have financing options, especially when you don't have enough cash saved up to pay upfront. Let's start with the popular places to go to when getting an auto loan and how it works based on where you apply.
direct lending
Direct lending is an option many consumers are unaware of. Although you're getting the vehicle from the dealership, it's ok to go to your bank or credit union of your choice to get an auto loan (preferably an institution offering lower interest rates and better lending terms that fit within your budget).
credit unions & banks
Credit unions and banks have their similarities when it comes to financing a car.
They won't pressure you into buying a car
They both review your credit report when you apply
They provide the check or direct deposit of funding into your account so you're able to pay for your approved car
They can pre-approve you for an auto loan before formally applying (Plus, their interest rates won't get marked up like dealership interest rates.)
The main difference between credit unions and banks is that they offer different interest rates. You can read more about the differences between Banks and Credit Unions in this previous article: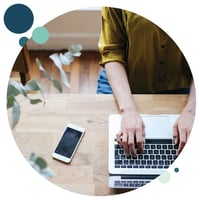 Like Skyla, credit unions are not-for-profit financial institutions offering better interest rates than commercial banks and dealerships because of the business structure. They are also more lenient than banks when it comes to lending solutions because credit unions see members as more than a credit score when reviewing applications for a loan. I talk more about this in the article What Credit Score Do I Need for an Auto Loan.
Don't get me wrong - it's possible for a dealership to offer better lending terms like negotiable interest rates and cashback to sweeten the deal, but credit unions have the power to offer lower interest rates automatically. Offering auto loans with high-interest rates is something dealers take advantage of when the borrower doesn't have credit.
Psst...

Sometimes dealerships will offer awesome incentives or purchase price discounts if you buy from them. In that scenario, it might make sense to purchase from the dealer to get the best deal, and then turn around and refinance your auto loan with a bank or credit union. (Just make sure the lender is like Skyla and doesn't have any fees to refinance that would end up costing you more!)
One thing to keep in mind is that your options may vary depending on whether you're buying a new or used car. Some banks and credit unions have limits on the vehicle's age and mileage, and new vehicles may qualify for lower interest rates in general.
back up... Don't I have to be a member of the credit union first?
Yes, credit unions require membership first before taking advantage of their lending products and financial services but it's not hard to join! Most credit unions serve anyone that lives, works, goes to a place of worship, or attends school in a certain geographic area.
Once you join a credit union, you can take advantage of the favorably low-interest rates. Some credit union interest rates are as low as 1.79%! Check out our Consumer Loan Rates to get a full look at the interest rates offered here at Skyla.
dealership financing
Dealership financing is an indirect way of getting an auto loan. They usually have a network of lenders that issue loans, making the auto loan process easy because they do the legwork for you. Just make sure you have auto insurance set up when getting the car or the auto loan since it's essential in the car buying process.
At dealerships, you might not receive a transparent loan agreement from the dealer and they might add on items on top of your loan amount - like add extended warranty service packages - when you could receive better coverage services elsewhere.
buy here pay here dealerships (BHPH)
Some dealerships offer in-house financing called Buy Here, Pay Here (BHPH). BHPH is a secure loan option that provides high-interest rates to borrowers who could not get an auto loan from another lender due to their credit score or other factors.
With BHPH dealerships, your car options are very slim. The dealership determines your eligibility and will share vehicle options you may qualify for. This limits the number of cars you can drive home with.
Also, be prepared to make a sizeable down payment. Why? Because with a low credit score, BHPH dealerships see you as a risk to lend to and a sizeable down payment proves that you can repay the car loan on their terms.
QUICK TIP: Have you heard of the slogan, "No Credit, no problem"? Sounds like a sweet deal at first but be wary when you come across that slogan. BHPH dealerships offer auto loans to people with no credit which results in high-interest rates and a high down payment with a greater risk of defaulting on the auto loan.
getting an auto loan from a direct lender vs. the dealership
Here's an overview of the auto loan process when applying and getting approved at the dealerships vs. direct lending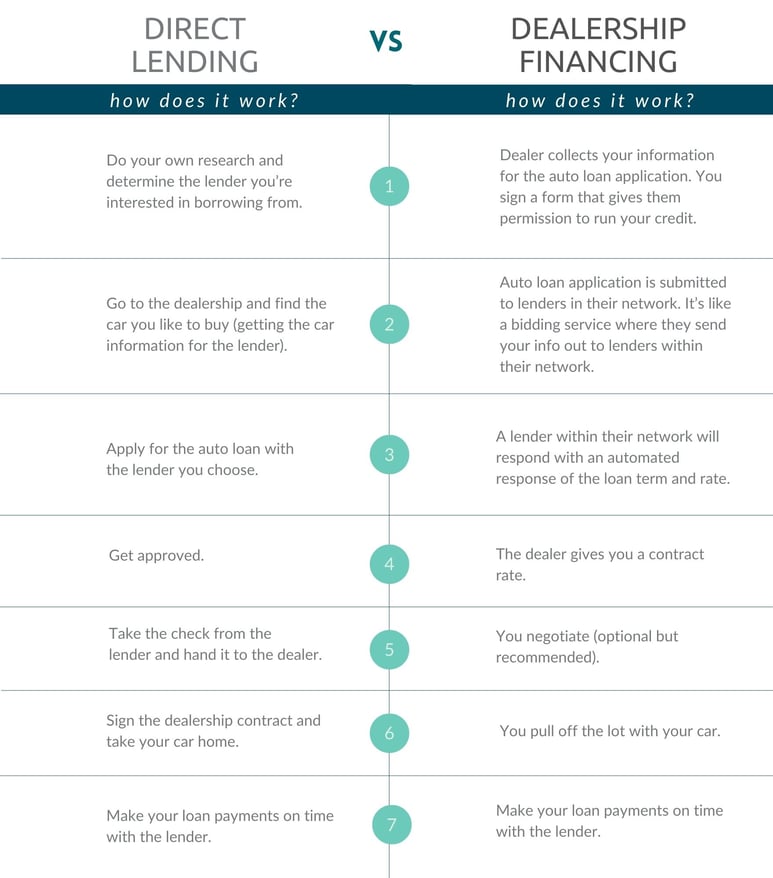 additional ways to pay for a car
Home Equity Loans:

Yep! You can use a home equity loan to pay for your perfect car but it's considered a high-risk financing option. Why? Your home is used as collateral and the lender can foreclose on your home if you can't repay the loan.

Personal Loan

:

Dealerships

accept personal lines of credit as long as you're able to repay the loan. Cars are already a big purchase, so be prepared to repay the loan with interest if you can't afford to pay for the entire cost of the vehicle with cash.




Credit Card:

Y

ou can pay for a car with a credit card if you have the available credit. Some borrowers tend to use a credit card if they have a small payment to make or the last car payment on their auto loan.




Online Lenders:

Outside of direct lending and dealership financing, there are online lenders. Depending on who you choose, interest rates vary so do your research if online lending is the route you like to go.
what's the difference between financing a new car vs. used cars at the credit union?
The difference lies in the amount of money you'll be borrowing for either your new or used car. This has to do with the value of the vehicle you're asking your preferred lender for financing. Lenders ask the vehicle type, cost, and mileage of the car you're looking to finance but it all boils down to the amount of money you're borrowing.
Since used cars are pre-owned, the value and cost of the car are substantially less. This makes the loan amount more affordable for the borrower when repaying the lender in installments. A smaller loan amount also allows the borrower to have a shorter loan term and you'll ultimately be spending less money in the long run. YAY!
can a car be too old to finance?
Some financial institutions may or may not finance a vehicle older than 10 years with more than 120,000 miles.
At Skyla, for example, we'll finance a car that's older than 10 years with more than 120,000. If you're interested in financing an older car with high mileage, I suggest you check the real value of the car. The car may not be operable for long or may have mechanical issues - financing a used car can be a risk!
do i need a cosigner for my auto loan?
If you have a poor credit score - probably! Applying for an auto loan with a cosigner who has a good or excellent standing credit score can improve your chances of getting approved, in addition to increasing your chances of getting a favorable (low) interest rate.
Generally, a cosigner is someone who takes joint responsibility for the loan you're getting. They are the one who signs the contract and pledge that he/she will pay the loan amount that is due. If a payment is missed, the cosigner's credit score is impacted.
QUICK TIPS:

Be sure your cosigner is willing to make your auto loan payments if you can't. If you want to improve your credit score, check out the tips in our article

What Credit Score Do I Need for an Auto Loan

.
Once a cosigner signs the contract, they are legally obligated to repay the loan amount. Make sure you review the terms of the contract, and the cosigner is someone you trust financially, before you sign.
what else should i consider before getting an auto loan?
Know Your Budget: Before making the decision, know your budget when considering factors such as interest rates, loan terms, credit pulls, gap insurance, taxes, and fees. Don't borrow more than you can afford and have a clear payoff plan. Need some help? Check out our article on How to Budget for Your New Auto Loan.
Understand Your Credit Score: When lenders review your application, they look at your credit history and other factors that determine your risk of repaying the loan (your credit score, current income, current lending relationship).
Consider Your Down payment: Down payments can be terrific when your credit isn't in the best shape and you don't have time to improve your credit score. Putting money down for a car loan can limit the amount of interest you'll pay during the life of the loan, but this varies based on the amount and the lender you choose. Read more about the benefits of a down payment for your new auto loan here.
here's what to do next!
Remember, do not feel pressured in financing a car at the dealership. You have other places to shop for an auto loan. Do some research and find a lender that offers low-interest rates so you can finance a car that doesn't put your other expenses in jeopardy.
ready for your freebie?
Want to feel confident and be fully equipped with information to help you make the best decision when finding an auto loan? Grab your Auto Loan Tool Kit which includes a glossary and questions to ask a lender or dealer before you sign off on an auto loan.